When it comes to growing summer crops like millet and sorghum for high returns it's all about preparation. In challenging spring environments the margin for error is high, so it is critical to get maximum production and quality feed from your forage sorghum and millet crops. Here is a list of tips for improving your chance of success.
Seed bed preparation is required to achieve maximum 'seed to soil' contact, so if direct drilling, make sure some harrows or rollers are used to cover the seed. Best practice is to spray out pre-germinated weeds with glyphosate to minimise weed burden later. Sorghum seed prefers moist conditions or pre-irrigated planting conditions. If the seed gets too wet, after sowing from an irrigation in a cold snap, you run the risk of the seed bursting resulting in poor establishment.
Sowing depth is also critical for good establishment with sorghum. Following an irrigation, it is important to plant the seed 2-3 cm deep to prevent it drying out too quickly. Sowing into a dry seed bed or too shallow will slow down and reduce germination.
Fertiliser at sowing is important for both sorghum and millet. Rates will vary according to your soil test, however 150-200 kg/ha DAP is a good general starting fertiliser rate. These crops are also very responsive to nitrogen applications during the season.
Seed availability this season, like last year, will require planning. Securing sorghum and millet seed early will be important because if conditions become favourable across NSW and Northern Victoria it will be difficult to buy seed.
Sorghum is an excellent yielder and with excellent water use efficiency and can handle much dryer soil conditions than millet. However, when sorghum becomes stressed it can produce prussic acid which can be fatal to livestock if grazed too early with hungry stock. Grazing the stand when it is between 0.8 - 1.5 m tall will give you the safest and highest quality feed. The addition of sulphur lick blocks will assist stock in better utilising this feed source safely.
The most effective way to keep sorghum at its best is to rotationally strip graze and back-fence, to ensure regrowth isn't grazed too early. As a rule of thumb, remove stock when the stand is at the height of a coke can and don't graze it again until it reaches your waist/chest. A mechanism to maintain quality in your summer crops is to plant your crops a couple of weeks apart so the area is not ready to graze all at once. If sorghum does get away from the stock, cut it for hay or silage.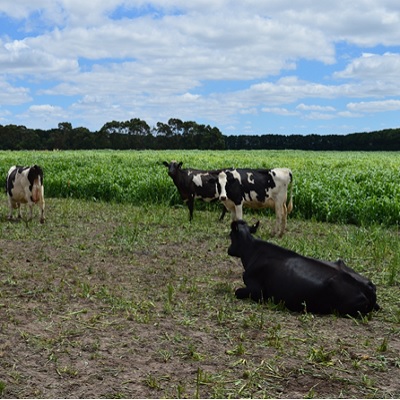 Caption: Dairy cows grazing a crop of sorghum in northern Victoria.
Yield potential for sorghum (10-12 tDM/ha) is directly related to moisture and nitrogen. If moisture is adequate then it is important to add 50-75 kg/ha nitrogen after each grazing for quicker regrowth. DON'T FORGET there is a stock grazing withholding period of 3 weeks after nitrogen applications to reduce the risk of nitrate poisoning. Note thatfeeding hay or silage, having fresh water and sulphur lick blocks available are recommended when grazing sorghum.

Millet is at the lower end of the scale nutritionally in the summer crop feed chain, however it is the cheapest to sow and is a safe option in terms of animal health risks. If the season gets challenging then there are no restrictions for cutting or feeding to livestock. Millet suits farmers who want regular grazing about every 2-3 weeks.


To help increase feed value, seed mixes can be sown such as Mainstar N Millet (Mainstar Brassica 20% Millet 80%) and Millet N Herbs (White Clover 15% Chicory 20% Millet 65%). The addition of brassica, chicory or white clover to millet will increase the protein and digestibility of the feed.
To find more information about our seed mixes, click here.