Summer forage crops are a valuable source of high-quality feed in summer and autumn when most other pastures have dried down and are offering very little nutritional value. Introducing brassica crops can help alleviate summer feed shortages, preventing continual grazing which causes damage and persistence issues to existing perennial pastures.
Summer crops can also be a useful part of a pasture renovation program. Weeds can be controlled prior to sowing the summer crop through knockdown herbicides and cultivation. A summer crop fully utilised through grazing will leave a paddock in an ideal condition for direct drilling pasture in the following autumn.
Assuming reasonable moisture levels in spring, brassica crops can provide quick and abundant feed. The quality of feed on offer is high, leading to increased milk production in dairy systems, excellent liveweight gains for lambs (150-300 g/hd/day) and is a great option for growing cattle (0.8-1.2 kg/hd/day). Given the potential quality and quantity of feed grown, forage brassicas are also relatively inexpensive to sow.
Refer below a table showing the quality of brassicas compared to other feed sources.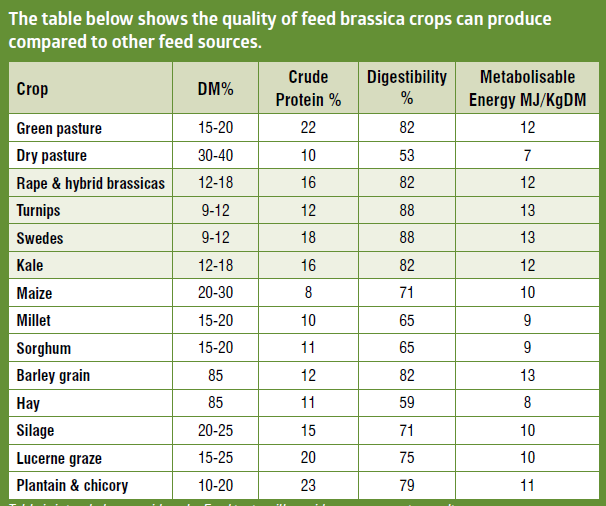 There are 3 main brassicas species that are used widely across Australia.
Forage rape is the most commonly used, as it offers excellent regrowth. Forage rape needs to ripen before grazing. Ripening is when the leaf margins start turning a bronze or purple. Forage rape will ripen when plants go through a heat or moisture stress period, this is generally in 10-12 weeks after seeding, depending on rainfall. If the season cuts out, then it could be earlier. Forage rape can be carried through into the autumn and winter if desired. A good option to bulk up a heavily grazed forage rape paddock in the autumn is to undersow with an Italian ryegrass such as Knight, for high quality winter and spring feed. The Italian ryegrass will become dominant as time goes on. You then can cut the paddock for silage or hay if required. This also eliminates leaving a pure stand of rape "bolting" in the spring which can lead to animal health issues if the crop is grazed when flowering.
Another use for forage rape is to plant in early autumn with an Italian ryegrass to provide high quality bulk winter and spring feed. For this to work well it is important to sow in early March to enable crops to grow while soil temperatures are still warm. If it hasn't rained in March, dry sow the crop and it will germinate on the next rain event. This crop will only cost approximately $70-80 per hectare to sow with the potential of producing 4-5 tonne of dry matter in June/July, making it cheap and valuable feed.
The most commonly used rape has been Winfred which has been proven to be very successful over the years. A recently released variety called Mainstar has now become very popular with producers due to its improved animal acceptance through increased palatability which can result in quicker and more liveweight gains and milk production. Mainstar can also tolerate aphid attack better compared to other varieties.
Leafy turnips are another species of forage brassica sown in spring. Hunter is a popular variety which is the quickest growing of our forage brassica range. Hunter can be grazed earlier (6-8 weeks) than forage rape due to the lack of ripening requirements. If left later than 8 weeks, plants may become unpalatable which leads to the crop not being utilised to its potential. Hunter is commonly used in higher rainfall areas with high soil fertility. It is a good choice under irrigation because of its fast establishment, quicker regrowth capabilities and multiple grazing opportunities. Good grazing management is essential to maximise yields and liveweight gains. Hunter generally is the first choice for farmers if they want quick feed when sowing later in the spring.
Refer table below to choose the variety for you.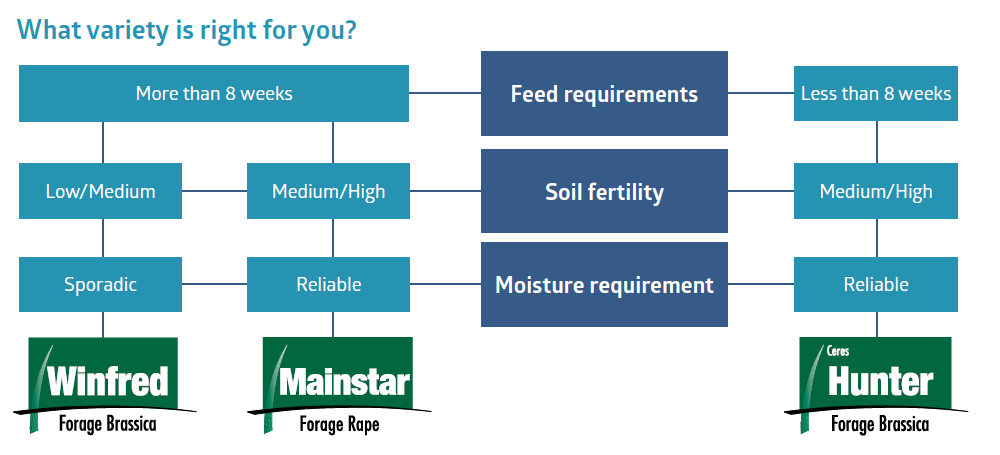 The next popular brassica optionare bulb turnips. There are two types of turnips available on the market; short term fast maturity types or longer-term slow maturity types. Turnips have the potential to produce a large amount of feed, given good moisture availability. Sowing rates are between 1-2.5kg/ha, making them a cost-effective feed option.
Turnip varieties with tankard shaped bulbs should be stripped grazed, so are more suited to beef and dairy farming systems in higher rainfall areas. The bulbs are softer and more palatable, so strip grazing is essential to fully utilise the crop. Rival and Barkant are tankard type varieties which potentially can produce high yielding tops and bulbs.
The traditional bulb types are the round varieties like Australian Purple Top (APT). This variety is certified and is specifically bred for Australian conditions compared to the old Mammoth Purple Top (MPT) variety. The bulbs are harder fleshed and are almost totally submerged into the ground which enables the bulbs to withstand drier and warmer conditions. APT is better suited to sheep grazing enterprises which can eat the tops and utilise the bulbs better.
Another option for farmers is to sow perennial grazing herbs with 'regrowth' brassicas like Mainstar and Hunter in the spring. Establishing perennial herbs (plantain and chicory) with multi-graze brassicas offer animals multiple benefits such as providing variety in the diet and greater mineral availability (Copper, Cobalt, Selenium) than a brassica crop alone. This can be used in all sheep, beef and dairy systems.
The concept of the brassica and herb mixes has enabled farmers to have better productivity leading into autumn and winter. It then allows for a seamless transition of direct drilling ryegrass in the autumn (if required), allowing animals to be grazing earlier, leading to less down time compared to the traditional system of autumn preparing and sowing paddocks. The other advantage observed is less weeds germinating in the autumn due to competition of the existing perennial herb base. In higher rainfall areas there is a further option of including white and red clovers with the brassicas and herbs. The clovers establish under the brassica and herb crop leading to stronger and bigger productive clover plants in the autumn and subsequent pasture.
Stephen Pasture Seeds have a range brassica and herb blend options to suit different environments and farming enterprises under our SPS Signature Range "Spring sown summer forage blends"
For more information regarding agronomic advice, such as sowing times and grazing management on all summer crop options please contact your local SPS Territory Manager. Or you can download the SPS Spring Forage Guide and refer the SPS Signature Range spring sown forage blends.
To download SPS Spring Forage Guide click here. DOWNLOAD