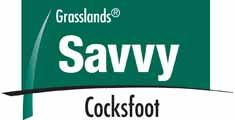 Savvy is a vigorous, very high yielding cocksfoot providing high production levels in all seasons, maintaining summer quality and palatability due to its low aftermath heading and soft leaves. Unlike most cocksfoot varieties, Savvy has exceptional disease resistance and has been bred to tolerate hard grazing in cattle and sheep systems, ensuring excellent recovery and persistence in a range of conditions.
Key features:
High autumn and winter production
High quality and very leafy with summer moisture
Bred for soft fine leaves
Disease tolerant
Increased palatability
Suited to well drained sandy loam soils
Tolerates acidic soils where perennial ryegrass struggles to persist
Sowing rate:
8-10 kg/ha pure stand
2-5 kg/ha with clovers and herbs
Endophyte:
Nil
Persistence:
5-10 years
Recommended rainfall:
600 mm+
Best grazing practice:
Rotational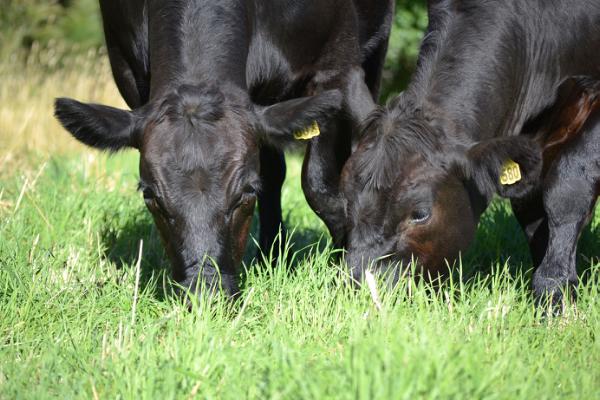 Background:
Cocksfoot is well known for its drought tolerance, ability to tolerate lower fertility soils and many insect pests. Savvy retains all these features, while adding much greater animal acceptability which many older cocksfoot varieties lack.
Savvy cocksfoot is a very leafy, densely tillered cocksfoot with high levels of production in all seasons. Unlike most cocksfoot varieties, Savvy has exceptional disease resistance, meaning plants stay green, healthy and more palatable for longer.
Savvy has also been bred to tolerate hard sheep grazing, and to be softer and more palatable to animals.
Savvy adds a new dimension to farmers struggling with perennial ryegrass persistence in dryland conditions with pests. For these farmers Savvy has high yield, is easy to graze, and provides a good quality forage.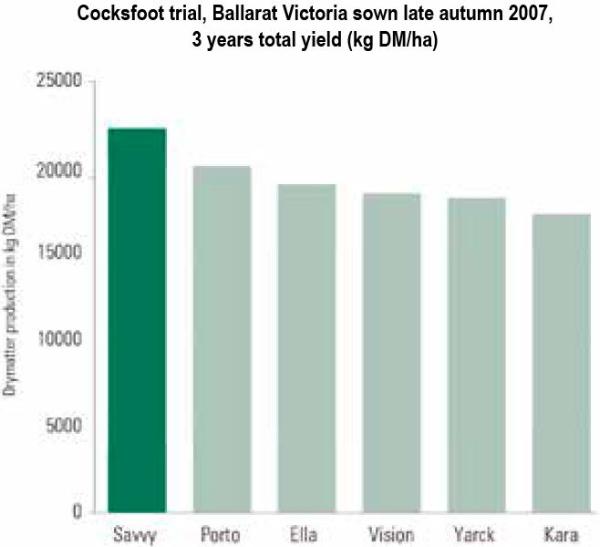 Uses
Savvy can be used in a number of ways:
8-10kg/ha as a pure cocksfoot stand
2kg/ha companion of perennial ryegrass mix in paddocks with variable soil types and summer dry conditions where ryegrass is likely to fade out over time
4kg/ha with perennial ryegrass for free draining, light soils where aiming to have a persistent cocksfoot based pasture over time
42-5 kg/ha with clovers and herbs
2-4kg/ha with lucerne
Cocksfoot is an endophyte free species which can be safely grazed in summer. Its forage quality is usually lower than perennial ryegrass (this assumes that perennial ryegrass is growing and available to be grazed in summer) and it can be particularly poor quality if seedheads are present through summer. The low summer seeding of Savvy should help summer management of this modern cocksfoot pasture.
Under dry summer conditions cocksfoot stands often have reduced crude protein levels leading to lower animal acceptance and performance. This result from reduced soil nitrogen levels associated with poor clover content in such pastures, or insufficient use of nitrogen fertiliser. White clover is typically out lasted by cocksfoot in dry land conditions, particularly when the pasture is overgrazed in set stocking situations.
Nitrogen is recommended for cocksfoot stands particularly mid to late spring and early autumn. The autumn nitrogen application is particularly relevant for Savvy as it is a very strong autumn/winter producer and this will greatly improve dry matter production and winter quality at this time of year.
Savvy cocksfoot animal performance
Savvy is best suited to regions with dry summer conditions with cold winters. The annual rainfall zone for Savvy is 600 mm+. Figure 1 shows the yield performance of Savvy compared to other cocksfoots in the market place. Savvy is a replacement for Kara cocksfoot and exhibits a softer leaf and a cleaner more disease tolerant than Kara.
In the video on the right, AusWest Seeds Territory Manager Aaron Kemp talks about Savvy Cocksfoot's characteristics and how it performs with animals.