Legion
Perennial Ryegrass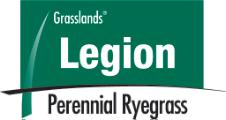 Legion is a fine leaved diploid perennial ryegrass with a +14-flowering date. Having strong autumn recovery, Legion could build significant yield after the autumn break leading into winter. Legion's ability to grow well in all seasons along with its flowering date brings on a slightly earlier spring flush compared to late heading varieties, but its slow seeding phase and low aftermath heading makes it easy to manage back to a vegetative state in spring.
Key features:
Dense diploid perennial grass – Robust under grazing

AR37 endophyte – insect protection

Strong rust tolerance

Strong all year round yield – (assuming summer

rainfall or irrigation)

Very low aftermath heading
Sowing rate:
18-20 kg/ha pure OR 15 kg/ha with legume or herbs
Ploidy:
Diploid
Heading date:
+14
Persistence:
4+ years
Best grazing practice:
Rotational
Diploid perennial ryegrass for any high-performing farms
Legion AR37 is an ideal ryegrass for any high performance farm and will fit into diary platforms providing important feed in the late autumn/winter period. It will also fit peak lactation curves in spring calving systems. Legion's tiller density also makes it robust enough to handle sheep and beef grazing and will suit these high-performance systems. Being a diploid perennial means its tiller density is going to be higher than tetraploid counterparts, making it more robust in winter conditions.
AR37 endophyte protection from pests


AR37 endophyte adds more strength to Legion as it gives it protection from adult black beetle, Argentine stem weevil, root aphid and pasture mealy bug. These pests can reduce yield and persistence. AR37 has also shown increased water use efficiency and increased
dry matter production compared to the same cultivar without AR37.
This is an exciting new perennial ryegrass and one we believe will have a great future on Australian farms.