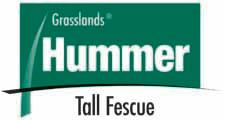 Hummer is a market leading summer active tall fescue and has shown excellent persistence under tough conditions, maintaining density over time. Hummer has been bred for softer leaves, making grazing management easier than coarser type fescues. Hummer tall fescue with MaxP® endophyte is is well suited for a wider range of Australian conditions compared to perennial ryegrass. It can tolerate heavy, wet and moderately saline soils, but also grows more for longer than ryegrass in hot conditions. Hummer is a flexible grass as it can be used in irrigated or dryland conditions.
Hummer can also be used in dairy, beef and sheep farming systems. It can be used in mixed pastures with Ecotain® environmental plantain, clovers or chicory.

MaxP® is a novel tall fescue endophyte that improves the ability of tall fescue pastures to handle pest attack and moisture stress.

Key features:
• Fine and palatable leaf encourages greater utilisation by stock
• Higher quality soft leaves
• High yields and autumn activity
• Deep rooted perennial providing excellent persistence
• Contains MaxP® endophyte
Sowing rate:

20-30 kg/ha alone
15-25 kg/ha with clovers and herbs
Persistence:
5-10 years
Best grazing practice:
Rotational
Endophyte:
MaxP®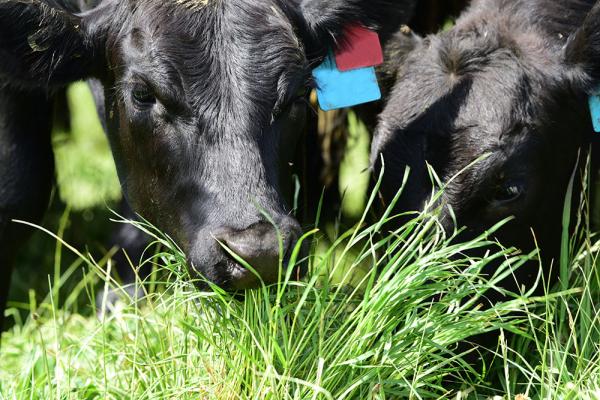 Fine and palatable leaf encourages greater utilisation by stock
Selected for its fine soft leaves, Hummer tall fescue with MaxP® endophyte brings a new dimension to productivity and persistence for summer active grasses making it ideal for all your dairy, beef and sheep grazing needs.
Hummer has shown excellent persistence and maintains its density in the sward. The sod forming characteristics make Hummer easier to manage compared to older tall fescue cultivars.
Hummers was selected for its fine soft leaves, high tiller density, persistence and high yielding characteristic. The leaf softness characteristic is a management advantage especially if the fescue stand grows beyond the optimal grazing height.
Hummer can be used for different purposes in farming systems as it can tolerate heavy, wet and moderately saline soils compared to perennial ryegrass.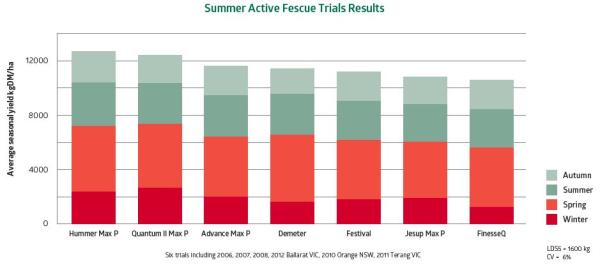 Hummer tall fescue performance
AusWest Seeds Territory Manager Aaron Kemp explains about Hummer tall fescue with MaxP® endophyte in the video on the right. What is MaxP® endophyte? How can it help better control insect attacks and survive drought to be productive for years to come? For long-term pasture persistence, plant Hummer tall fescue today.
Persistent under tough conditions
Hummer also has better heat tolerance, productivity and feed quality than perennial ryegrass over summer whilst providing better water use effciency under irrigation over summer than ryegrass based pastures.
Hummer is ideal in hot summer environments with moisture such as irrigated dairy pastures as well as sheep and beef operations. It can also be used in a mixed pasture particularly sown with clover increasing overall quality of the pasture.
Management
Best establishment of Hummer is achieved by placing seed into firm and moist soil and covering with 10-15 mm of soil. The use of fertiliser at sowing improves establishment of the tall fescue without effecting the clover establishment. A further application of fertiliser (Nitrogen based) is recommended to be applied within the first 6 months after sowing to promote healthy tillering plants, reducing weed invasion.
Tall fescue can be slower than ryegrass to establish and seedlings can be pulled out if grazed too early. Once established tall fescue pastures should be kept relatively short (2 to 3 leaf stage) to maintain pasture quality. During September to November plants will grow rapidly and will try to develop a thick stem and seed head. Preventing the stem developing through frequent grazing will give you quality pasture over late spring and summer that is very leafy and easy to maintain. Management of quickly growing Hummer over spring can include quicker grazing rotations to mechanical harvesting such as silage or hay removal.