Ecotain®
Environmental Plantain
Ecotain® - The Plant
Ecotain® environmental plantain is a mineral rich perennial grazing herb. Ecotain® is fast establishing and tolerant
to a wide range of soils. This includes less fertile soils and especially dryland regions of approximately 600 mm
rainfall.

Ecotain® has a deep coarse root system, which gives it a degree of drought tolerance and the ability to
respond quickly after summer dry conditions. Ecotain® pastures offer some great animal performance potential
for sheep, beef and dairy farmers, particularly in winter and spring, as well as supporting a high level of animal
health, reduced incidence of dags in sheep and good micronutrient supply. Pure stands of Ecotain® can be used
during lambing to increase lamb and ewe weights at weaning.

Ecotain® has also been shown to reduce the amount of N lost from farm systems. Ecotain® can reduce
N leaching from the urine patch by up to 89%*.

Ecotain® can be sown alone as a pure stand or recommended in perennial pasture mixes, especially medium
term, quality finishing mixes.
* NZ data: Woods, 2017 used with permission
Sowing Rates:
10-14kg/ha as a pure stand
5 kg/ha in a perennial pasture mix
4-6 kg/ha with chicory and clover as a specialist crop
4 kg/ha in a lucerne stand
8 kg/ha with 2 kg/ha of forage brassica
Animal Performance – Dairy
Ecotain® in grass mixes for dairy production
Adding Ecotain® to dairy pastures can significantly increase milk production. Figure 1 demonstrates a 2L/cow/day increase in milk production when cows grazing low quality ryegrass were supplemented Ecotain®.
Ecotain® improves palatability in late spring and summer when grass goes reproductive, improving pasture utilisation.
The rapid rumen degradation time of Ecotain® allows cows to spend less time ruminating and more time eating, increasing feed intake and milk production.
Having Ecotain® in your dairy system can also help reduce nitrogen leaching by up to 89% (Woods, 2017 used with permission). Benefiting your farm and the environment.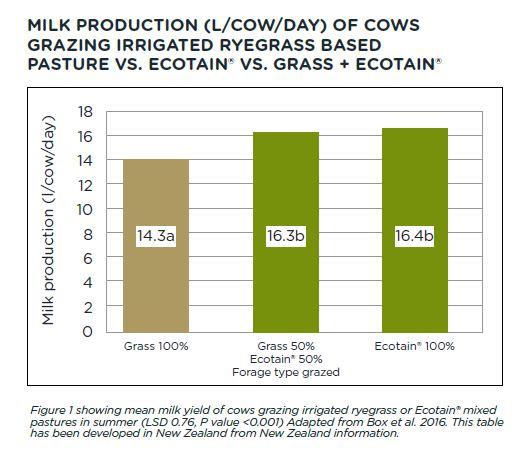 Animal Performance – Sheep & Beef
Ecotain® forage systems can increase sheep liveweight production. The winter activity of Ecotain® allows farmers to lamb ewes or maiden hoggets on high quality forage, resulting in heavier lambs and ewes at weaning. Four separate trials have shown Ecotain® increased lamb weaning weights by 10 to 34%.

Livestock tend to be healthier on Ecotain®, due to elevated levels of important minerals (Zn, Cu, Se, MG, Ca, K). Ecotain® stands have also shown anecdotal evidence of less dags on sheep and a reduced risk of facial eczema spore.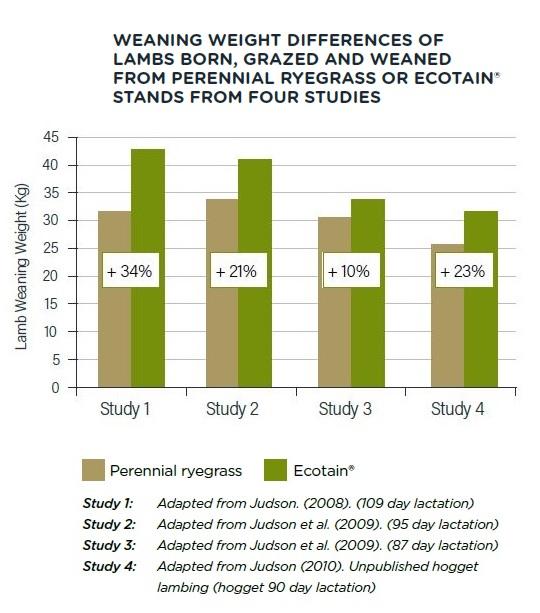 Highly Winter Active
The winter activity of Ecotain® is exceptional. Our Ballarat research farm showed that Ecotain® can produce up to 3000kgDM/ha more than other plantain varieties from May - September.
This feed is some of the most valuable produced during the year and is crucial for the success of Ecotain® based farm systems.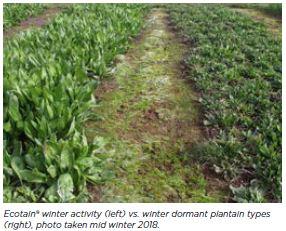 Post Dry Recovery
Ecotain® has the ability to recover quickly from long dry periods once it receives moisture, getting to a grazable mass very quickly. This autumn recovery can provide quick feed while grass paddocks regrow.
The ability of Ecotain® to survive dry periods makes it a great 2-3 year option in 600mm+ rainfall environments where a high quality forage is required from autumn to late spring/summer.
Grazing Management
Ecotain® suits grazing management similar to perennial ryegrass. To maximise production and quality, rotationally graze on a 20-25 day rotation in spring.
Rotations of this length will minimise seed head build up. Sheep rotations of 35 days or more can reduce palatability. Pre grazing residuals should be 12 -15cm and should be grazed down to 3-5cm before stock are removed. Cattle rotations can be longer as the fibre content is beneficial and they are less selective.
Ecotain® can be set stocked at lambing time, but ewes and lambs should be put onto a rotational grazing system after marking.